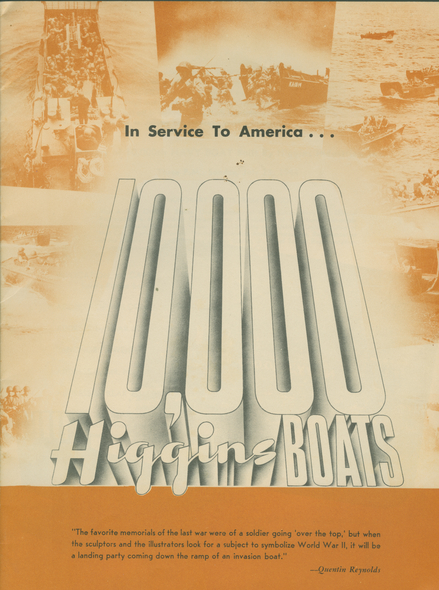 Program from the 10,000th Boat Ceremony. The National WWII Museum, 0000.045.001
July 23, 1944, was a milestone in production for Higgins Industries. Seventy years ago today, Higgins Industries held an enormous celebration upon the delivery of the 10,000th boat to the Navy. The 10,000th boat, an LCM, was completed a day earlier and transported on a platform to the site of the celebration, New Orleans Lakefront. Not even two months following the D-Day landings at Normandy, Higgins staged a reenactment of those landings at New Orleans Lake Pontchartrain. A ship anchored in the lake unloaded troops onto landing craft which invaded the seawall of Lake Pontchartrain where thousands watched the display. PT boats also played a role in the show, patrolling the shores, and aircraft flew as if in defense against enemy aircraft. The ceremony was attended by Bureau of Ships chief Rear Admiral E.L. Cochrane, who in his address to the crowd called Andrew Jackson Higgins "a pioneer" in the field of landing craft. He praised the work and achievements of the men and women of Higgins Industries.
Post by Curator Kimberly Guise.