Let's Get Ready To Ruuuuumble!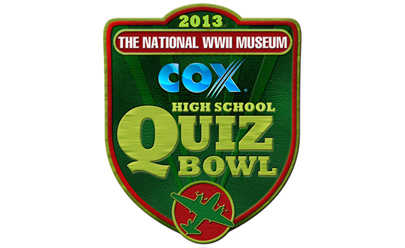 If you're in the New Orleans, Baton Rouge or Lafayette area, tune in tonight to Cox Channel 4 at 6:00pm CDT for the LIVE Championship of the 2013 WWII Quiz Bowl between Northshore High School of Slidell and Central High School of Baton Rouge. Last year, Northshore came in second place (to Mandeville High) and in 2011 Central came in second place (also to Mandeville High). So tonight's contest will propel one of these teams to the top for the first time.
Think you're smarter than a high schooler?  Hands on buzzers:
1. Which term does not belong with the others regarding the United States during the interwar period?
a)      Arsenal of Democracy
b)      Neutrality Acts
c)       Nye Commission
d)      America First
2. In February 1941 President Roosevelt moved the Pacific Fleet from:
a)      Guam to Manila
b)      San Diego to Oahu
c)       Pearl Harbor to San Francisco
d)      San Diego to San Francisco
3. Match the plane to its nickname (all found in our new US Freedom Pavilion: The Boeing Center):
B-17                a. Mitchell
2. B-25                 b. Mustang
3. SBD                  c. Corsair
4. TBM                 d. Flying Fortress
5. F4U                  e. Avenger
6. P-51                 f. Dauntless
4. On January 30, 2013, Patty Andrews of the popular wartime singing trio The Andrews Sisters died at the age of 94.  Can you name her two sisters?
5. Which future president gave up his seat in Congress to join the Navy during WWII?
Posted by Director of Education and Quizmaster Kenneth Hoffman.

Posted :
Post Category :
Tags : Tags: Quiz Bowl
Follow responses to this entry through the RSS 2.0 feed. You can skip to the end and leave a response. Pinging is currently not allowed.