Do with less so they'll have enough! The 70th Anniversary of Ration Book One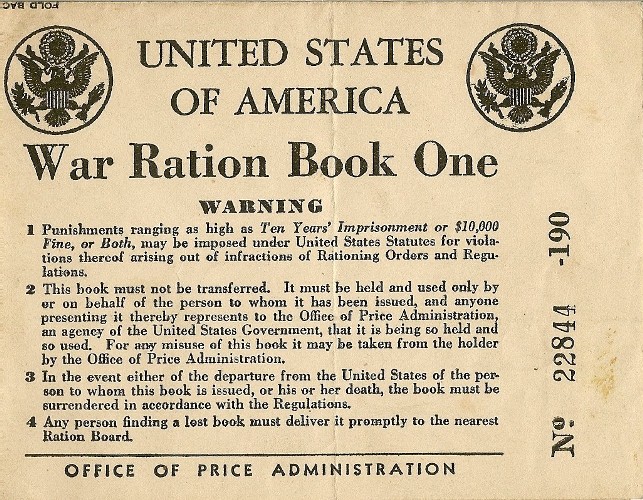 Today marks the 70th anniversary of the release of Ration Book One. Unlike today's supermarket shelves stocked with endless product options, rationing ushered in a period of shopping wisely, monitoring spending, and limiting choices. During this time, there were shortages of many different types of goods, including refrigerators, bicycles, gasoline, stockings, and of course an array of food products.
These shortages were for a variety of reasons. Ships and trucks once used to transport foods items were now needed for soldiers and supplies at home and abroad. Sixteen million enlisted men and women along with our Allies also needed proper nourishment during wartime. These changes added up to less products on our grocery store shelves, hence the slogan and iconic poster, "Do with less so they'll have enough!"
On May 4th 1942, the Office of Price Administration issued Ration Book One, containing stamps to purchase sugar and other later designated goods. This system ensured everybody received their "fair share" (to reference another well-known poster) and forbade the exchange or trading of stamps with any individual. Stamps had to be torn out of the book in front of the grocer, butcher, etc. to ensure that they belonged to the owner.
Yesterday, the Museum presented two webinars on the Home Front to remember this important anniversary. Students from across the country had the opportunity to experience what it was like growing up during WWII. We asked common questions of kids on the Home Front and addressed "Why can't we buy whatever food we want at the grocery store?" Together, we shouted the answer of most busy parents, "Don't you know there's a war on?" and then explored the more in-depth answers. Students envisioned they were going grocery shopping during 1944, sang along to Boogie Woogie Bugle Boy, and imagined their grandparents or great-grandparents doing the jitterbug as teens and young adults.
We had over 150 sites from 34 states and over 1500 students tuning in to the webinar sessions. Fun was had by all as we were listening to "Accentuate the Positive," watching a Looney Tunes clip about scrapping, and checking on the progress of the Museum's Victory Garden.  One school in New Jersey invited local veterans to participate along with them. Another teacher exclaimed her students were "fascinated by it! They were so interested and want more!" Some students were even inspired to start a Victory Garden and make their own ration books.
Want to learn more about rationing? Check out the Take a Closer Look gallery to examine not only ration book one, but all rationed books issued by the OPA.  Explore different propaganda posters showing how our "Food is Fighting." Take these lessons with you by printing out our latest bookmark to commemorate this milestone.
Posted by Chrissy Gregg, Virtual Classroom Coordinator at The National WWII Museum.

Posted :
Post Category :
Tags : Tags: Food in WWII, rationing
Follow responses to this entry through the RSS 2.0 feed. You can skip to the end and leave a response. Pinging is currently not allowed.