The Deportation of Vienna's Jews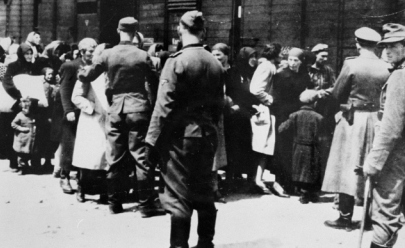 On this day in 1942, German authorities began the deportation of 1,500 Viennesse Jews. While the deportations from Vienna into Polish ghettos had been occurring since 1939, this particular transport consisted of many Jews who were 61 and older, and the average age of deportee was 55. They were to be taken to Riga, Latvia.
Vienna's remaining Jews received orders to assemble at a Jewish school; as the day went on, both SS and "wardens" (Jews who were forced to assist in the deportation) went from door to door and rounded up Vienna's Jewry. Many waited for days, and even weeks, to actually be deported. Of those who made the first journey on January 11, 1942, just 31 would ultimately survive the war. Many died on the way to Riga, deprived of food, water and adequate living conditions.
To honor the Jews who lost their lives, as well as the survivors and those who were righteous, we have put together The Holocaust at a Glance, featuring archival images, a fact sheet and other materials for learning about and teaching The Holocaust.
Find out more at "The Holocaust at a Glance" and download a printable fact sheet.
Posted by Gemma Birnbaum, Digital Education Coordinator at The National WWII Museum.

Posted :
Post Category :
Tags :
Follow responses to this entry through the RSS 2.0 feed. You can skip to the end and leave a response. Pinging is currently not allowed.