Hitler Calls FDR a "Mad Fool" – January 30, 1942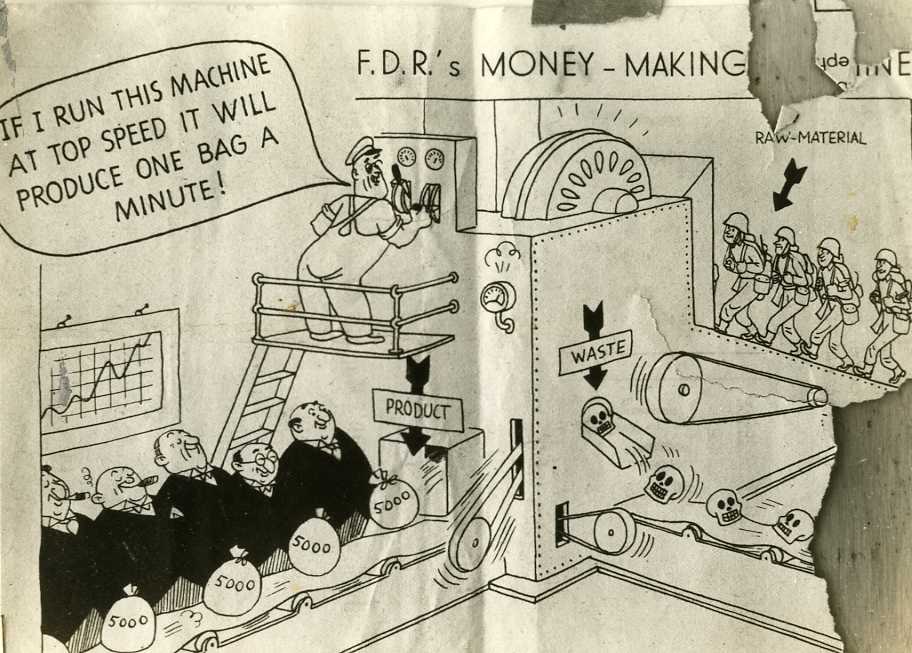 "FDR's Money Making Machine," Gift in Memory of William F. Caddell, Sr., 2007.048.073
On January 30, 1942, Adolf Hitler spoke to a congregation of Nazi party members and soldiers in Berlin. He made no mention of the recent air raids, nor did he speak about the Nazi war effort. Instead, he used the opportunity to lambast Allied leaders Prime Minister Churchill and President Roosevelt in front of a captivated audience of devoted Nazi followers.
"This arch-liar today shows that Britain never was in a position to wage war alone. This gabbler, this drunkard Churchill. And then his accomplice in the White House, this mad fool."
Hitler's speech that day was about making his enemies known; in addition to his public castigation of FDR and Churchill, he declared, 'The Jews are the ones who will be finally destroyed. The war will be fought in the true Biblical manner – an eye for an eye and a tooth for a tooth." His speech was part of a much larger German propaganda machine, led by Dr. Joseph Goebbels, head of the Ministry of Public Enlightenment and Propaganda.
In addition to cartoons (like the one above), posters, speeches, films, books, newspapers and even board games for children, the Nazis produced propaganda leaflets that were aimed at Allied troops. Collections staffers Lindsey Barnes and Meg Roussel scanned the following leaflet from the Museum's collection. You'll notice there is a handwritten note on side 2 that states, "Here is what Hitler has been shooting over at us."
Today, the word "propaganda" is often associated with something that is negative and manipulative. This is largely due the Nazi party's pervasive use of some of the most violent, negative imagery in their propaganda.
Read more notable quotations from both the Axis and Allies!
View contrasting images of American Propaganda and download a free fact sheet.
Posted by Gemma Birnbaum, Digital Education Coordinator at The National WWII Museum.

Posted :
Post Category :
Tags : Tags: Hitler
Follow responses to this entry through the RSS 2.0 feed. You can skip to the end and leave a response. Pinging is currently not allowed.