Celebrating Christmas on the Home Front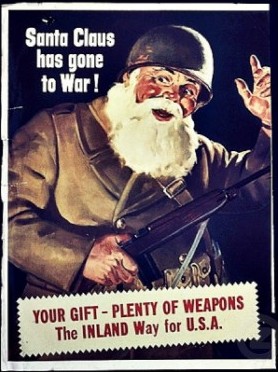 Curious about how World War II impacted the celebration of Christmas on the Home Front? So were we! In honor of tomorrow's holiday, we've put together a list of fun yule-tide facts.
Fewer men at home resulted in fewer men available to dress up and play Santa Claus. Women served as substitute Santas at Saks Fifth Avenue in New York City and at other department stores throughout the United States.
During World War II Christmas trees were in short supply because of a lack of manpower (to cut the trees down) and a shortage of railroad space to ship the trees to market. Americans rushed to buy American-made Visca artificial trees.
Travel during the holidays was limited for most families due to the rationing of tires and gasoline. Americans saved up their food ration stamps to provide extra food for a fine holiday meal.
View all these fun facts at Christmas at a Glance and download a printable fact sheet
Posted by Gemma Birnbaum, Digital Education Coordinator at The National WWII Museum.

Posted :
Post Category :
Tags : Tags: Christmas, Home Front, rationing
Follow responses to this entry through the RSS 2.0 feed. You can skip to the end and leave a response. Pinging is currently not allowed.