Dr. Seuss and WWII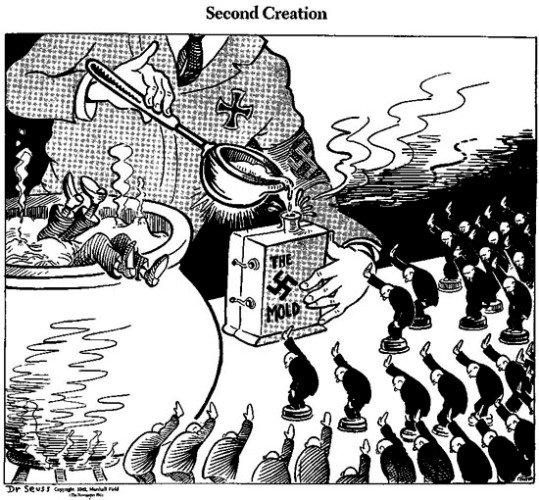 From PM Newspaper, Courtesy of the Mandeville Library Special Collection at UCSD, April 3, 1942
Dr. Seuss is the well known and universally loved author of such classics as HORTON HEARS A WHO! and Green Eggs and Ham. But during WWII he was also an outspoken critic of isolationism, injustice, and political maneuverings and machinations. Between 1941 and 1943 he published over 400 political cartoons in PM Newspaper that encouraged Americans to join the fight against both fascism abroad and intolerance at home.
Dr. Seuss said he had "no great causes of interest in social issues until Hitler" and that he published his cartoons in PM because they "were against people who pushed other people around. I liked that."
Although clearly impassioned and angry, his cartoons treat the subjects with wit and humor. The trademark imagery is here (with plenty of creatures and contraptions) alongside serious themes and pointed words. Social injustice and racism are illuminated and exposed.  Hitler, Mussolini and other fascists and fanatics are lampooned. The isolationists and later the Americans who eschew the war effort are shown as dangerous.
In 1943 Seuss joined the Army and worked for the Information and Education Division where he created the character Private Snafu-who taught by negative example. He also wrote "Your job in Germany," a propaganda film about peace in Germany and "Design for Death," a movie study of Japanese culture.
Learn More About Dr. Seuss and View More of His Cartoons
Teachers, Download a Free Lesson Plan
Posted by Laura Sparaco, K-12 Curriculum Coordinator at the National WWII Museum