Students Get Assistance with National History Day Projects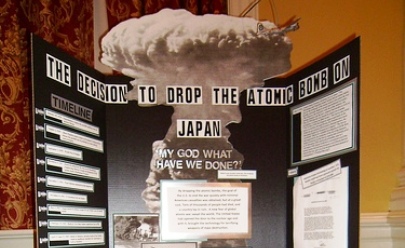 National History Day is an academically proven program that reaches more than 600,000 students a year.  Students can research any topic they chose in any area of history.  They produce papers, documentaries, exhibits, dramatic performances, and web sites.  The National WWII Museum is proud to serve as Louisiana's official state sponsor and offer guidance to students from all across the country on WWII-themed projects.  Students can access the Museum's resources through the Museum's NHD Assistance Page and receive guidance from Museum educators on their topic.
This year's NHD theme, Revolution, Reaction, Reform in History, offers students a range of options for WWII topics.  Sample topics listed on our web site include major changes to the Olympics made by the planners of the 1936 Games in Berlin and the changes to warfare enabled by the Higgins Boats.  In addition, students could choose to look at how naval battles were forever changed with the use of aircraft carriers in the Pacific.  A student less interested in battles could focus on revolutionary changes in American industry during the war or FDR's Executive Order 8802 which forbade discrimination in industries with defense contracts.
In 2011, the Museum assisted several students who advanced all the way to the National Contest with their projects.  One of the projects, a web site by Phillip Shuler and John Venable of Milwaukee, WI placed 4th in the nation in the Junior Division.  For a sampling of exhibits on WWII topics, view this gallery on Flickr.  You can find out more about the program at Louisiana History Day and National History Day.
This post by National History Day Coordinator Nathan Huegen.

Posted :
Post Category :
Tags :
Follow responses to this entry through the RSS 2.0 feed. You can skip to the end and leave a response. Pinging is currently not allowed.