New Special Exhibit on Four Freedoms Opens Today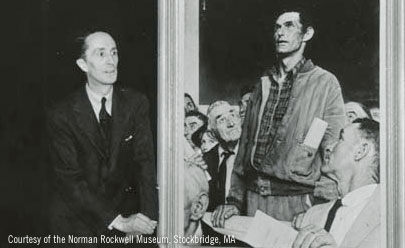 Picture this scene: a man stands up to speak his mind at a community meeting. He's not a town leader or a wealthy businessman. He's a farmer, or a truck driver, or maybe a factory worker. But at this civic gathering, he delivers his opinion with the knowledge that his right to speak his mind is ingrained in the law of the land. It's a simple scene, but one that Norman Rockwell seared into the American consciousness as part of his 1943 "Four Freedoms" series.
Today, the Museum opens a special exhibit titled Roosevelt, Rockwell, and the Four Freedoms: America's Slow March from Isolation to Action (September 2—November 13). This exhibit explores a lesser-known side of WWII history—the time period before Pearl Harbor, when Americans debated what to do about the wars in Europe and Asia. From the Neutralities Acts passed in the mid 1930s to "Cash and Carry" to the Lend Lease program, American politicians, newspaper editors, community leaders, and everyday Americans argued between isolation and intervention, between staying out and helping out. As President Roosevelt became convinced that the United States must aid Great Britain in its solitary fight against Nazi Germany, he knew he needed to provide a moral justification to persuade his fellow Americans to go along. In his January 6, 1941, State of the Union Address, he spoke of a post-war world where four freedoms reigned: Freedom of Speech, Freedom of Worship, Freedom from Want, and Freedom from Fear. That speech and the ever-more frightening realities on the ground in Europe helped usher in a more aggressive anti-Nazi, pro British foreign policy. Two years later, with the United States in the war, popular American artist Norman Rockwell turned Roosevelt's Four Freedoms into four iconic paintings, which in turn were turned into four of the best known American propaganda posters of WWII.
Come see these original posters, a timeline of pre-war American foreign policy, and a provocative audio-visual presentation that will get you thinking about whether Mr. Roosevelt's vision has come true or not.
Find out more about "Roosevelt, Rockwell and the Four Freedoms: America's Slow March from Isolation to Action."
Learn more about the Public Programming that accompanies this exhibit, including film screenings and lectures.
This post by Director of Education and co-Curator of the exhibit Kenneth Hoffman.

Posted :
Post Category :
Follow responses to this entry through the RSS 2.0 feed. You can skip to the end and leave a response. Pinging is currently not allowed.