History Day Contestants Find Inspiration in New Orleans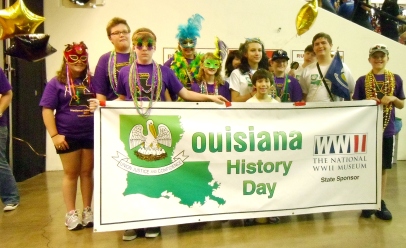 The 2011-2012 school year has begun for students, and the National History Day program is making its appearance in classrooms in Louisiana and all around the country.  All fifty states participate in this program which culminates in a National Contest at the University of Maryland.  This year's theme, Revolution, Reaction, Reform in History offers many possibilities.  As I've made a few rounds to classrooms around Louisiana, I've encountered many topics that demonstrate the creativity of our students.
One group of 7th grade students has decided to focus on the revolutionary Po-Boy sandwich.  The students are planning on attending the New Orleans Po-Boy Preservation Festival to listen to the lectures and panel discussions that accompany the festival.  Changes in popular music or clothing seem to be appealing topics this year.  Students in several parishes have mentioned these.  Studying these changes will lead students to analyzing changes in American society in the 1920s and 1960s.
As always, World War II projects will have a significant presence at all History Day contests this year.  Students that I've heard from are looking at the transformation of Germany from Weimar Republic into Nazi totalitarianism.  Others are looking at the development of nuclear weapons and how their presence has revolutionized diplomacy and military strategy.  Higgins Boats as a topic has been an intriguing topic by students in the past, usually after a visit to the National WWII Museum.
If you are a Louisiana teacher or student in grades 6-12, this research program is open to you.  If you are outside of Louisiana, the Museum offers its assistance on your World War II project.  National History Day showcases the work of our young history scholars and is committed to supporting students during their journeys into the past.
This post by Louisiana History Day Coordinator Nathan Huegen.

Posted :
Post Category :
Tags :
Follow responses to this entry through the RSS 2.0 feed. You can skip to the end and leave a response. Pinging is currently not allowed.